Like many, the last few months have shown us how untrustworthy many of those who work in government are. Whether we talk about the cover ups of Benghazi, IRS targeting of individuals and organizations, NSA snooping, Affordable Healthcare or others, it has been a long round of concern for the American public and the America I once knew.
We have  never resolved the answers o the Mexican gun running, the DOJ spying on the press, Sebelius shaking down health insurance executives, the State Dept. (new today) interfering with an IG investigation on dept. sexual misconduct and now we have HHS employees being given insider information on Medicare Advantage.The consistent issue is lack of understanding, knowledge and direction by the American public at large. Only a system of educating these folks and not pointing the finger every time something happens will turn this around.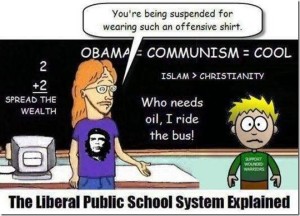 It may well be found in this.
Breitbart.com's Dr. Susan Berry writes of a quiet revolution that gives hope for America's future. That revolution is homeschooling. Parents sick of failing schools and mindless liberal indoctrination are taking back their kids. And homeschoolers are kicking butt! Berry: "Recent studies laud homeschoolers' academic success, noting their significantly higher ACT-Composite scores as high schoolers and higher grade point averages as college students." Some stats: 1) Since 1999, kids being homeschooled is up 75%, a growth rate 7 times that of public school enrollment 2) Avg. performance on standardized tests: Public schooler – 50th percentile, Homeschooler – Between the 65th and 89th percentile 3) Avg. cost per year: Public schooler – $10,000, Homeschooler – $500 to $600 And I bet many homeschoolers can mention God at their graduation ceremonies. Now if we can just start homeschooling college students. Decades of big government liberalism have ruined our schools & colleges. It's great to see more & more Americans fighting back! Perhaps it is time to review a system or two that leads to the corruption and conspiracy within the government.